The Top 5 Ways To Get A Developer Job
You're a developer, you have skills, but have trouble finding a developer job? 
Well, look no further because we're going to show the 5 fastest ways to find a job as a developer:
1.  Build Something Quick and share it
It doesn't have to be something monumental, just something  you've done recently.  Put it on GitHub, Bitbucket, or GitLab.
You'll find most employers want to recruit unhappy or dissatisfied developers from their competitors or other companies – rather than someone who hasn't built something in a while.
Will the recruiter know how you built it? Probably not – but gets you in the door as an "Active Candidate"
2. Get on LinkedIn
If you're not on Linkedin – your dead on arrival!  It's like driving a car without wheels – it just won't go!
Here's some additional tips if you're just starting out on Linkedin:
Ensure you have an updated resume ready to go.
Timing is critical in the job search. Being resume #25 vs #2500 when all else is equal could be the difference between getting a job and losing out to someone who is the same fit as you but responded a little sooner.
Match your resume to your Linkedin Profile
Recruiters will review your Linkedin profile to get a better sense of your fit, but eventually will need the resume. Make sure it matches, or be able to explain why you left or added someone to your profile that doesn't match.
3. Versioning? Yes please .
Not referring to code here – but rather having 2-3 versions of your resume ready. You're a full stack developer huh? That's great, but employers may want a specialist.
So if the role calls for ERP skills in an application like SAP, and you have worked with Netsuite, SAP, SAGE, and every ERP under the sun, try to highlight SAP in your core skills or more relevant projects, while taking emphasis away from the others in one version of your resume.
4. Keyword Stuffing? NO!
Remember that horrible SEO practice? Well it's still bad. ATS software has been more sophisticated and not only searches for keywords but the context behind them.
Don't try to beat the HR algorithms as you'll come to find "resistance is futile"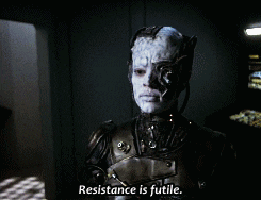 Instead of keyword stuffing, craft a great story around your resume.
5. Know what the role is and know yourself.
Sometimes this is difficult as roles changes and some companies peruse the dreaded unicorn in hopes of striking a pot of gold in their candidate search.
Try to weed out what the daily and quarterly expectations are on the 1st or 2nd call.
Just be honest with yourself and open about what you can and cannot do and let the employer or recruiter decide if they want to continue the conversation. Getting a NO early in the process is better, waste less time, and brings you closer to a YES.
Bonus Tip #1:
Attend a Hackathon like ours, or Conference.  Granted attending the upcoming Tech Day on May 2nd or a hackathon like ours won't get you a developer job the next day, but it will provide exposure to the right sphere of influence and put you at the right door. 
Of course, it's up to you to knock the door down.

Bonus Tip #2
If you are in NYC, using BuiltinNYC with can help you find the companies that are hiring at this very moment. There are tons of opportunity in this city!